Derek and Dave didn't start out as friends right away, as an offhand comment from Dave regarding one of Derek's early bands was played up into a serious affront by mutual friend and chaos instigator Matt Matsuoka. That was eventually smoothed over and Dave was able to conquer Derek's famous resting mean face thanks in no small part to the efforts of Miss Michaelanne, who pops into the episode to reminisce about their early days causing trouble at various churches and temples across the country. Or maybe just two.
Follow Derek on Twitter: @dustortion
Check out his website at: www.dustortion.com
LIKE the Nobody's Nose page on Facebook: www.facebook.com/noseynobody
Follow Nobody's Nose on Twitter: @NOSEYNOBODY
---
Most of these conversations will contain shorthand speech and insider info that both parties will be familiar with and won't necessarily stop to explain for the listener. Whenever possible, Dave will provide some after-the-fact definitions and descriptions. Like your own personal eavesdropping translator.
Scroll down for photos.
MENTIONED IN THIS EPISODE:
THE GREEN / WAFFLE STOMPER: Derek played bass for this Eastside band.
ORCHARD MANOR: An early Derek band with a DC sound.
LOGIC PROBE: Derek's current and long-running electronic music project. Click HERE.
The Edge of Quarrel: Dave's Punk vs. Straight Edge gang movie from the late 90s. Click HERE.
"That Worms game": BEST VIDEOGAME. Click HERE.
Matt Matsuoka: A true madman. Singer/Guitarist for 10:07, RED ROCKET, THE HIT, and others. Writer/Director of the films "Heartbreak Beat" and "For The Cash." Has an alter-ego called "Thee Ultramatt". Has long held that Dave Larson's film "The Edge Of Quarrel" contains secret gay messages. See episode 13 of this podcast. He also creates animation. HERE IS AN EXAMPLE.
10:07: Kinder Drummed for these guys. Matsuoka (Podcast episode 13) sang and played guitar. Excursion released various records. Click HERE.
Ron Guardipee: Sang for BROTHERHOOD and ran Overkill Records. See episode 6 of this podcast.
Demian: Demian Johnston. Played bass for UNDERTOW. See episode 16 of this podcast.
SUPER DELUXE: All I wanted was a skateboard… Click HERE.
CRACKERBASH: Criminally underrated Oregon band from the 90s. Click HERE.
JAWBREAKER: The best band you ever saw or never saw. Click HERE.
Excursion: Dave's now defunct record label.
BORN AGAINST: Best band name ever. Click HERE.
The Party Hall: Often discussed and long defunct Seattle rental hall that as the scene of many amazing shows. The can see it in THIS video.
RED ROCKET: Post-10:07 band featuring Matt Matsuoka and Eric from THE GREEN / WAFFLESTOMPER. Dave released a full length CD called "July" on Excursion.
LYNC: Click HERE.
UNDERTOW: Seattle Straight Edge band from the early to mid 90s. Click HERE.
SPARKMARKER: Vancouver, BC band. They were fantastic. Click HERE.
Benny Hinn: This was the best I could find on him. Click HERE.
MINOR THREAT: Absolute classic, must-listen-to, band that literally wrote the song "Straight Edge". LISTEN. WATCH.
THE DEAD MILKMEN: Classic funny Punk that indoctrinated many a young skater back in the day. Click HERE.
UNIFORM CHOICE: Classic Southern CA Straight Edge. Again, an early influence for many. Click HERE.
N.O.T.A.: Early Oklahoma HC. Click HERE.
YOUTH BRIGADE: Many people discovered these guys along with Social Distortion in the film "Another State of Mind" when it played on cable back in the 80s. Click HERE.
MR. MISTER: Click HERE.
RUN-DMC: Click HERE.
Dischord: WA DC record label. There is probably no way to properly measure the influence this label has had over the years. Click HERE.
Out Of Step: The only actual full length record from MINOR THREAT. Click HERE.
120 Minutes: Old MTV alternative music show. Click HERE.
The Young Ones: Early 80s British sitcom that found new life on MTV in the mid 80s. Click HERE.
Soto: Sotirios Rebelos. Owner of Black Crown Car service, Seattle area musician, and killer dude. See episode 11 of this podcast.
Love Is A Battlefield: Song, and more importantly video, from Pat Benatar. Click HERE.
Gator: A classic skateboard deck with an iconic design. Click HERE.
Time Travelers: An old Seattle record and skate shop. Click HERE.
Christian Hosoi "Hammerhead": Another iconic 80s skate deck. Click HERE.
Rocky Votolato: See episode 2 of this podcast. An all-around good dude and an excellent musician. Click HERE.
April Votolato: Rocky's wife and Michaelanne's childhood friend. Also Dave's business partner in the production of his film "The Edge of Quarrel" (so it's partially her fault).
RIOT RADIO: Click HERE.
"We go down there and play Iron Man": The song, not the superhero. Click HERE.
Excitebike: One of the best games made for the original Nintendo home system. Click HERE.
STRYPER: The original Christian metal. Click HERE.
BLOODGOOD: A Christian metal band from Seattle. Click HERE.
DC TALK: Christian rap. Oh boy. Click HERE.
CINDERELLA: Click HERE.
WINGER: Click HERE.
THE BULLETBOYS: Click HERE.
SKID ROW: Click HERE.
POISON: Somewhat better than the rest of the garbage. Maybe. Click HERE.
INXS: Whatever you might think of this band, watch this video and let the awesomeness wash over you. Click HERE.
John Grigley: The POISON connection is indeed correct. Click HERE.
THE CULT: Click HERE.
JEAN LOVES JEZEBEL: Click HERE.
WHITE LION: Click HERE.
FOREIGNER: Click HERE.
NIGHT RANGER: Click HERE.
SURVIVOR: Dave's dirty secret is that he LOVES this band. Click HERE.
RMD: Derek's first high school band.
WARM FUZZY: This band was 1/2 of 10:07 and there is nothing I can find anywhere on the internet about them.
Happiness Breakdown 7": The 2nd 7" from 10:07. (You can get it in the Nobody's Nose store.)
Aram: Aram Arslanian. Played Guitar for CHAMPION. Sang in BETRAYED. Ran React! Records. Now plays guitar in TRUE IDENTITY and KEEP IT CLEAR. See episode 10 of this podcast.
SLAYER: Click HERE.
REASON FOR HATE: Click HERE.
2 MINUTES OF HATE (or TWO MINUTES HATE): Click HERE.
RIKKI TIKKI TAVI: A band that Lex Spahr sang for in the early 90s.
MODEST MOUSE: Click HERE.
MONSULA: Some days I think this was the best band there ever was. It's not true, but some days it is. Click HERE.
JAWBOX: Click HERE.
Lex: Lex Spahr. See episode 12 of this podcast.
COUSIN IT: The band that became THE GREEN / WAFFLE STOMPER.
SWEATY NIPPLES: Click HERE.
Sub Pop: A pretty famous Seattle record label. CLICK HERE.
DEMPSEY: A post-UNDERTOW band. Click HERE.
THE NOT-ITS!: Rock music for young chldren. Click HERE.
Dann Gallucci: Guitarist from THE MURDER CITY DEVILS and MODEST MOUSE, currently in COLD WAR KIDS. Played the role of "Chance Linstrom" in THE EDGE OF QUARREL.
JIMMY EAT WORLD: "I fall asleep with my friends around me…" Click HERE.
EARTH CRISIS: Click HERE.
FACE TO FACE: Click HERE.
Kate Becker: Kate ran the Old Firehouse Teen Center, was/is a huge advocate for youth music, co-founded Seattle's Vera Project, and is currently the director of Seattle's Office of Film and Music.
Beth's Cafe: I truly love this place. Click HERE.
Electric Eel: An old recording studio in Seattle.
Martha Splatterhead ACCUSED Shirt: A shirt portraying the subject of THIS SONG.
FUGAZI: One of the most influential indie bands of all time. Click HERE.
DJ KEOKI: Click HERE.
SUPERCHUNK: Don't like this band? YOU ARE SUSPECT. Click HERE.
YKK: Derek and Morgan Henderson. Click HERE.
GEORGE'S WALL: This was a band featuring Dave Ford (the other half of LOGIC PROBE) on guitar and vocals.
IDM: "Intelligent Dance Music." Click HERE.
For The Cash: Matt Matsuoka's 2nd movie. Or 3rd. Depends on what you count. Click HERE.
Aaron Edge: Played "Rolo" in THE EDGE OF QUARREL and is the tattoo'd person in the cover photo. Has many band credits, Including GENUINE, HIMSA, and currently PROCESS BLACK. See episode 14 of this podcast.
AVEE LIBRETTO: Another electronic band Derek is involved in. Click HERE.
Ned Brower: THIS fine fellow Click HERE.
ROONEY: Click HERE.
---
"RESTING MEAN FACE":

Bocce Battle:

THE GREEN / WAFFLE STOMPER: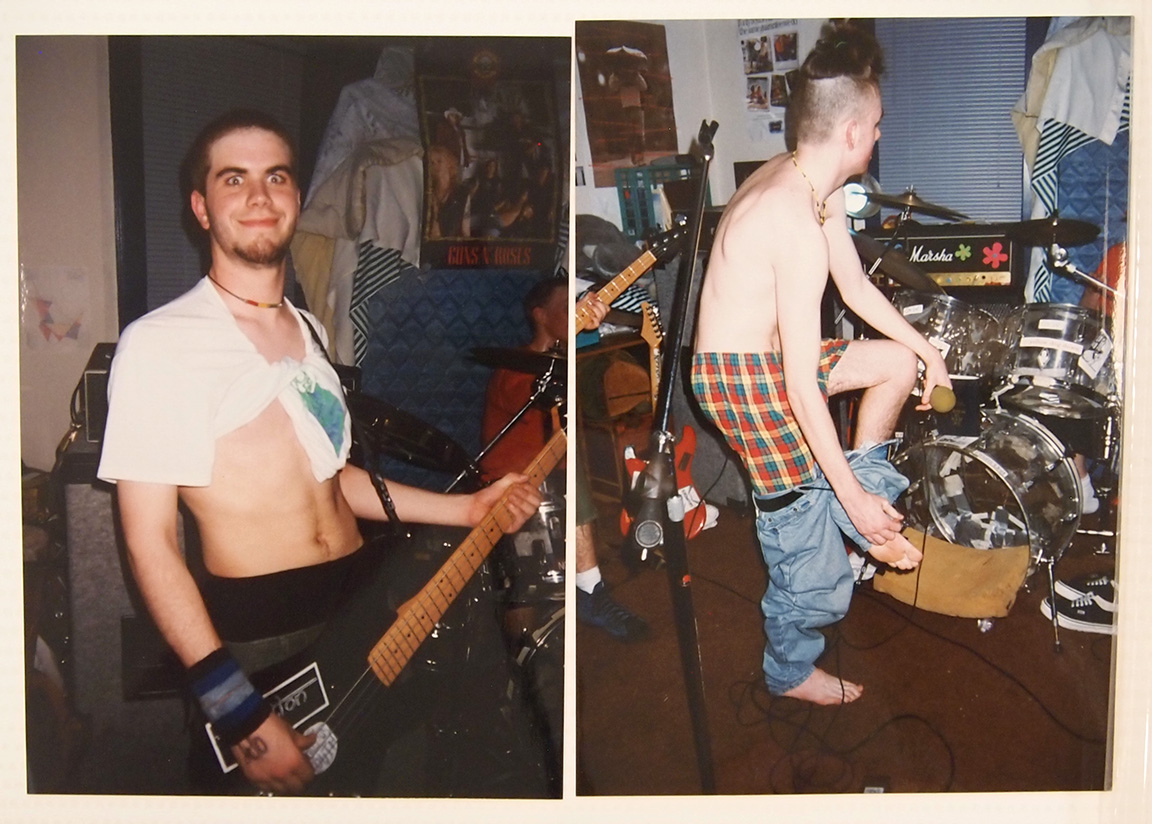 At The Temple:
I'm not sure these can be easily explained:
YKK: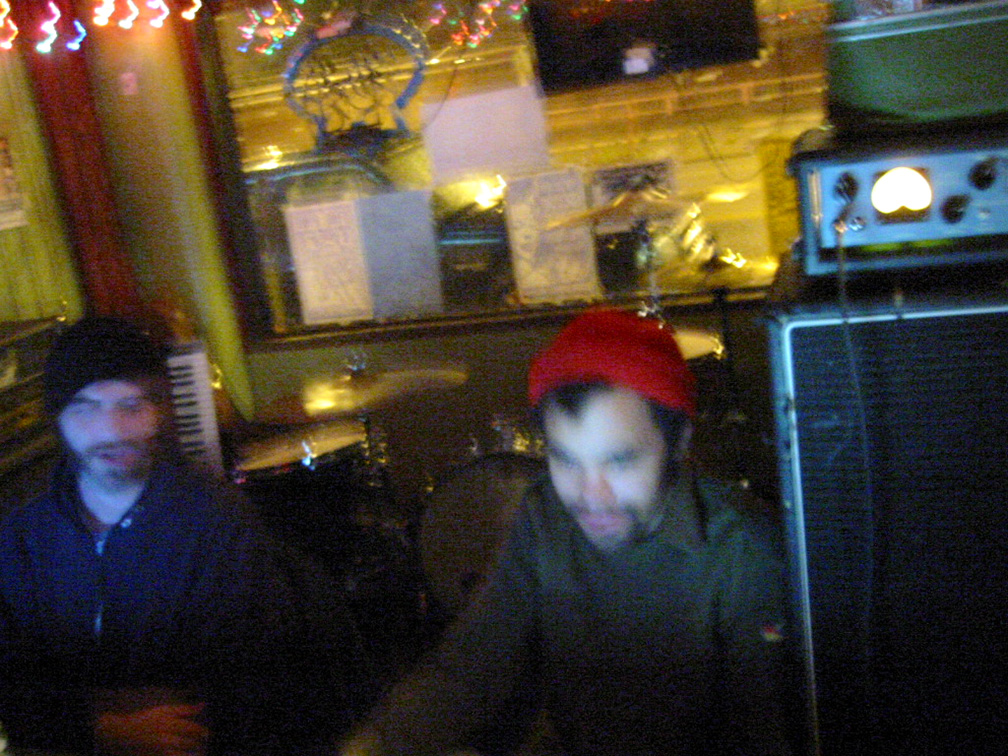 MISC.:
FLYERS:
DAUGHTERS OF THE NILE:
(THE GREEN PLAYED WITH THEM IN IDAHO)
I'VE KNOWN YOU TOO LONG
David Larson is a screenwriter from the Seattle area who ran an independent record label called EXCURSION for many years. Over the course of the last three decades, Dave has formed friendships with a large number of people who have made an artistic impact, mostly in the world of Punk Rock and Hardcore music. Many of these people have gone on to greater and more varied adventures in the worlds of art, film, music, politics, and activism. In this podcast, Dave uses the timeline of their first meeting to explore back and forth through their histories to try and gain a better understanding of how they came to be the people they are today.
They say history is written by the conquerors, and while none of these campaigns are complete yet, it is time to get some of these tales nailed down before they are lost to time and age.
---
Check out Dave's episode of the WORD ON THE STREET podcast HERE.
Check out Dave and Ron Guardipee's episode of the EDGELAND podcast HERE.
---
DIG THAT INTRO MUSIC?
That's Polymorph, a project by my friend Bryar Herrick. He has a ton of stuff you can check out here:
https://polymorph.bandcamp.com/
While you're at it, give his other bands a listen: TICKLE TRUNK and THE DARKWAVE DEMO.
---
Also:
---
Check out books by Boris D. Schleinkofer at AMAZON and SMASHWORDS.
To get his audio book, ESCHATOPOLIS: CITY AT THE END OF THE WORLD, click this link:
https://www.audible.com/pd/B07FKR5D6W/?source_code=AUDFPWS0223189MWT-BK-ACX0-121843&ref=acx_bty_BK_ACX0_121843_rh_us
---
And finally:
---
Dave's book SHADOW KILLER, a story set in the world of Hugh Howey's book WOOL, can be found at Amazon for Kindle here:
As an Amazon Associate I earn from qualifying purchases.