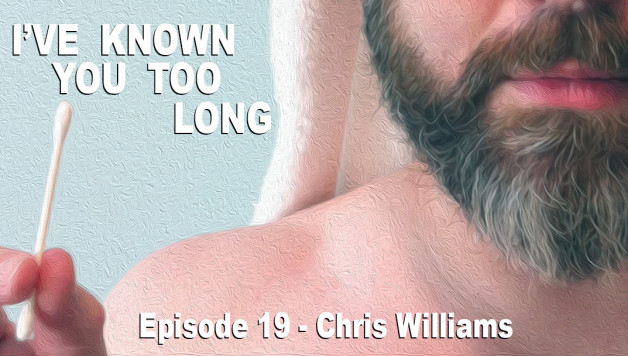 "Posi" Chris Williams has been a fixture in the NW Hardcore community for the better part of two decades. Dave and Chris discuss the rocks he used to throw at his friendly neighborhood BMX Hesher and then turn over some others in search of clues to the reason for his early and long-lasting attraction to skateboarding, Punk Rock, Straight Edge, and whatever other good things there may be in life. Chris also explains the rules to CHAMPION's potentially dangerous game "Classic Combinations" which was apparently created in a state of duress while on tour in Germany, as so many things are.
Follow Chris on Twitter: @SeattleHC
Check out his blog, SEEKERS OF THE CORE, at: http://seattlehc.wordpress.com
LIKE the Nobody's Nose page on Facebook: www.facebook.com/noseynobody
Follow Nobody's Nose on Twitter: @NOSEYNOBODY
---
Most of these conversations will contain shorthand speech and insider info that both parties will be familiar with and won't necessarily stop to explain for the listener. Whenever possible, Dave will provide some after-the-fact definitions and descriptions. Like your own personal eavesdropping translator.
Scroll down for photos.
MENTIONED IN THIS EPISODE:
CHAMPION: The Straight Edge Hardcore band Chris played guitar in for many years. Click HERE.
DEAD WEIGHT: Chris sings for this band. Click HERE.
THE CREW: Chris plays guitar in this band. Click HERE.
INK & DAGGER: Vampire Hardcore. CLICK HERE.
LIT (SCREWJACK): Hardcore band that Dave played in with a bunch of other awesome dudes in the 90s. Click HERE.
STATE ROUTE 522: An early band led by Jake Snider with a number of other interesting NW folks. Excursion Records had a number of releases that included them. Click HERE.
NINEIRONSPITFIRE: A post-Undertow NW hardcore band. Click HERE.
Carrie Whitney: Now Carrie Whitney-Hall. Purveyor of zines, Taker of photographs, Lover of robots. Also releases records: CLICK HERE. Starred in at least 3 no budget films in the 90s, including Dave's.
The Goat House (or Haus): A punk house that had a number of memorable shows in the basement, a dangerous old trampoline in the back yard, and a group of very talented roommates who went on to form some seriously great bands.
TORCHES TO ROME: One of the many musical projects of Mike (later Sarah) Kirsch. Click HERE.
BOTCH: A NW band that received and deserved great acclaim. Click HERE.
Mike/Sarah Kirsch: Sang/played guitar in some of the best bands. Sorely missed. Click HERE and HERE.
Matt Matsuoka: See episode 13 of this podcast.
UNDERTOW: Seattle Straight Edge band from the early to mid 90s. Click HERE.
RED ROCKET: Post-10:07 band featuring Matt Matsuoka. Dave released a full length CD called "July" on Excursion.
TRIAL: Influential NW hardcore band that Greg Bennick sings for. Click HERE.
Cellophane Square: A cool, old NW record store chain. We had one in Bellingham too. Click HERE.
SUICIDAL TENDENCIES: The first record is a straight up unassailable classic. Click HERE.
NINE INCH NAILS: Click HERE.
RED HOT CHILI PEPPERS (early stuff): Click HERE.
DESCENDENTS: A very influential melodic Punk band that also spawned the band ALL. Click HERE.
Straight Edge: A lifestyle choice of abstinence from drugs and alcohol that originated in the Washington DC Punk scene in the early 1980s. It quickly caught fire in the minds of weirdos everywhere and spread worldwide. The X is used as its symbol, and SXE is how you shorthand it. Dave Larson has been Straight Edge since he was 16 years old, because he's stubborn.
GORILLA BISCUITS: Click HERE.
YOUTH OF TODAY: Click HERE.
MINOR THREAT: Click HERE.
Tony Hawk: Probably the most famous skateboarder in the world. Click HERE.
Variflex: Click HERE.
Barb's: The homemade skatepark in Auburn Chris mentions. Click HERE.
OPERATION IVY: Also called OP IVY. Ska Punk from the East Bay. Members went on to play in RANCID and others. CLICK HERE.
LEFT WITH NOTHING: A metal influenced Hardcore band from Tacoma, Wa that ended up putting out records on Excursion. Click HERE.
LAHAR: A post-LEFT WITH NOTHING band that vocalist Tory sang for. Click HERE.
SEAWEED: One of the best NW bands of all time. THIS IS NOT AN OPINION. Click HERE.
THE LEMONS: Click HERE.
ALCOHOL FUNNYCAR: Click HERE.
SPARKMARKER: Vancouver, BC band. They were fantastic. Click HERE.
More to come…
---
CHAMPION:
TORCHES TO ROME:
---
I'VE KNOWN YOU TOO LONG
David Larson is a screenwriter from the Seattle area who ran an independent record label called EXCURSION for many years. Over the course of the last three decades, Dave has formed friendships with a large number of people who have made an artistic impact, mostly in the world of Punk Rock and Hardcore music. Many of these people have gone on to greater and more varied adventures in the worlds of art, film, music, politics, and activism. In this podcast, Dave uses the timeline of their first meeting to explore back and forth through their histories to try and gain a better understanding of how they came to be the people they are today.
They say history is written by the conquerors, and while none of these campaigns are complete yet, it is time to get some of these tales nailed down before they are lost to time and age.
---
Check out Dave's episode of the WORD ON THE STREET podcast HERE.
Check out Dave and Ron Guardipee's episode of the EDGELAND podcast HERE.
---
DIG THAT INTRO MUSIC?
That's Polymorph, a project by my friend Bryar Herrick. He has a ton of stuff you can check out here:
https://polymorph.bandcamp.com/
While you're at it, give his other bands a listen: TICKLE TRUNK and THE DARKWAVE DEMO.
---
Also:
---
Check out books by Boris D. Schleinkofer at AMAZON and SMASHWORDS.
To get his audio book, ESCHATOPOLIS: CITY AT THE END OF THE WORLD, click this link:
https://www.audible.com/pd/B07FKR5D6W/?source_code=AUDFPWS0223189MWT-BK-ACX0-121843&ref=acx_bty_BK_ACX0_121843_rh_us
---
And finally:
---
Dave's book SHADOW KILLER, a story set in the world of Hugh Howey's book WOOL, can be found at Amazon for Kindle here:
As an Amazon Associate I earn from qualifying purchases.