Dave and Bret take a trip back to their middle school years in Bellingham, WA to try and sort out their first meeting, where they discover the possibility that they might have unknowingly started off as bitter enemies in an ancient grade school blood feud. The route back swerves though breakdancing, graffiti, and skateboarding, Punk Rock and Straight Edge, and three decades of Bret playing music in killer bands that continues on to this day.
Contact Bret by email at bretvanhorn@gmail.com
Check out his website at www.bretvanhorn.org
LIKE the Nobody's Nose page on Facebook: www.facebook.com/noseynobody
Follow Nobody's Nose on Twitter: @NOSEYNOBODY
---
Most of these conversations will contain shorthand speech and insider info that both parties will be familiar with and won't necessarily stop to explain for the listener. Whenever possible, Dave will provide some after-the-fact definitions and descriptions. Like your own personal eavesdropping translator.
Scroll down for photos.
MENTIONED IN THIS EPISODE:
FIRST STEP: Bret's Straight edge band in Bellingham in the late 1980s. Scroll down to see some photos.
HUTCH: Portland, OR band that Bret sang and played guitar for in the mid-90s. Click HERE, HERE, HERE, HERE, and HERE.
Micronauts: The best toys ever. Click HERE.
Hornetroid: A very cool Micronaut ship. Click HERE.
Eric Kinder: Drummer for many bands, including 10:07 and BALANCE OF THE WORLD.
10:07: Kinder Drummed for these guys. Matsuoka (Podcast episode 13) sang and played guitar. Excursion released various records. Click HERE.
Schneider: From the sitcom "One Day At a Time." Click HERE.
The story Bret wrote for Excursion Zine: It is called "That Thin Line" and it appeared in Excursion 'Zine #6. Click HERE.
KISS: When I was a kid, people actually believe that these guys were satanic. "Kids In Satan's Service" Click HERE.
Bill Baker: See Episode 3 of this podcast.
Breakdancing – The Worm: THIS IS WHAT BRET DID IN SCIENCE CLASS. Click HERE.
Gator: A skateboard deck with a classic design for a pro skater who ended up murdering someone. Click HERE.
SUICIDAL TENDENCIES: "But the thing I like seeing the best, was the rodents using her hair as a nest." Click HERE.
AGENT ORANGE: Classic Skate Rock. Click HERE.
JFA: More classic Skate Rock. Click HERE.
U-MEN: Seattle band that played throughout the 80s. Click HERE.
THE WIPERS: A Portland, OR Punk band formed by Greg Sage and friends in 1977. Click HERE.
GAME FOR VULTURES: A short-lived Bellingham band that featured Mort from THE DEHUMANIZERS and later THE MONO MEN. Click HERE and HERE.
THE MONO MEN: Probably the biggest thing out of Bellingham in the 90s. Click HERE.
THE LAWNMOWERS: Early Bellingham Punk band. I doubt any physical proof of their existence still remains. Just memories.
DIDDLY SQUAT: A Tri-Cities, WA band full of guys who went on to play in some serious bands. Came to an end in 1988 with the tragic drowning death of their guitar player. Click HERE.
SCRATCH ACID: Bret was the first person who ever talked to me about this band. Also the only person. Click HERE.
FILTHY MCNASTY: The LAWNMOWERS eventually morphed in this magnificently named band with Bret on drums.
DRUNK INJUNS: Questionable name, killer band. Click HERE.
TALES OF TERROR: Another one of those bands that Bret was particularly attracted to as a young man. Considered by some to be an early inspiration for Grunge (and those some include Kurt Cobain and Mark Arm). Disbanded after the death of their guitarist in a fight outside a club in 1986. Click HERE.
MINOR THREAT: THE band. THE song. Click HERE.
Straight Edge: A lifestyle choice of abstinence from drugs and alcohol that originated in the Washington DC punk scene in the early 1980s. It quickly caught fire in the minds of weirdos everywhere and spread worldwide. The X is used as its symbol, and SXE is how you shorthand it.
7 SECONDS: Classic, influential early Hardcore band. Click HERE.
ANGRY SAMOANS: Early American Punk. Click HERE.
YOUTH OF TODAY: Incredibly influential SXE Hardcore band. Click HERE.
BROTHERHOOD: Early Seattle Straight Edge Hardcore. Set the stage for everything to come. Click HERE.
CRIMPSHRINE: East Bay CA band. Played a lot of shows with OPERATION IVY back in the day. Click HERE.
DESCENDENTS: It's hard to imagine our future pop punk reality occurring had these guys not been themselves. Click HERE.
OPERATION IVY: Ska Punk. The first time I heard them I lost my mind. Click HERE.
MCRAD: A skate rock band that made people pay attention after their song "Weakness" was used in the "Pubic Domain" skate video. Click HERE.
CLOUDBREAK: Early 90s Portland hardcore band Bret played drums for. Click HERE.
RED LETTER DAY: Another Bret Portland band. I'll upload Video soon.
BULL GOOSE LOONY: A Dave Bellingham band from the RED LETTER DAY era. I'll upload Video soon.
GREEN DAY: Everyone knows who these guys are. Longview is the song and place we're talking about. Click HERE.
RAKE: RAKE was the original name for HUTCH. Click HERE and HERE.
ROCKET FROM THE CRYPT: San Diego band. Probably the best live band you ever saw, if you saw them on the right night. Click HERE.
SWIZ: A criminally underrated DC Hardcore band. Click HERE.
SEAWEED: The Pride of Tacoma. Click HERE and HERE.
SLOWSIDEDOWN: Bill Baker's band from Portland. Excursion released a 7" in the mid 90s. Click HERE.
RANCID: Post OPERATION IVY band. Click HERE.
THIRTY OUGHT SIX: Much loved Portland band. Click HERE.
FAILTAKER: A band that Bret was also in. Click HERE.
DRIVE LIKE JEHU: Uglier/prettier twin (depends on your point of view) of ROCKET FROM THE CRYPT. Click HERE.
ZERO STATE: A band that Bret was also also in. Click HERE.
RABBITS: A Portland band with Seth from HUTCH. Click HERE.
BOTCH: Tacoma, WA band who's members have gone on to make a lot of noise in bands like NARROWS, MINUS THE BEAR, and RUSSIAN CIRCLES. To see a video Dave worked on, click HERE.
BLOOD BROTHERS: Hard to describe. Better you just watch. Click HERE.
BEARFIGHTER: Another Bret band. Oh, this is GOOD. Click HERE.
LARRABEE: The Most recent Bret band. Also GOOD. Click HERE and HERE.
HUTCH:
RAKE:
CLOUDBREAK:
FIRST STEP: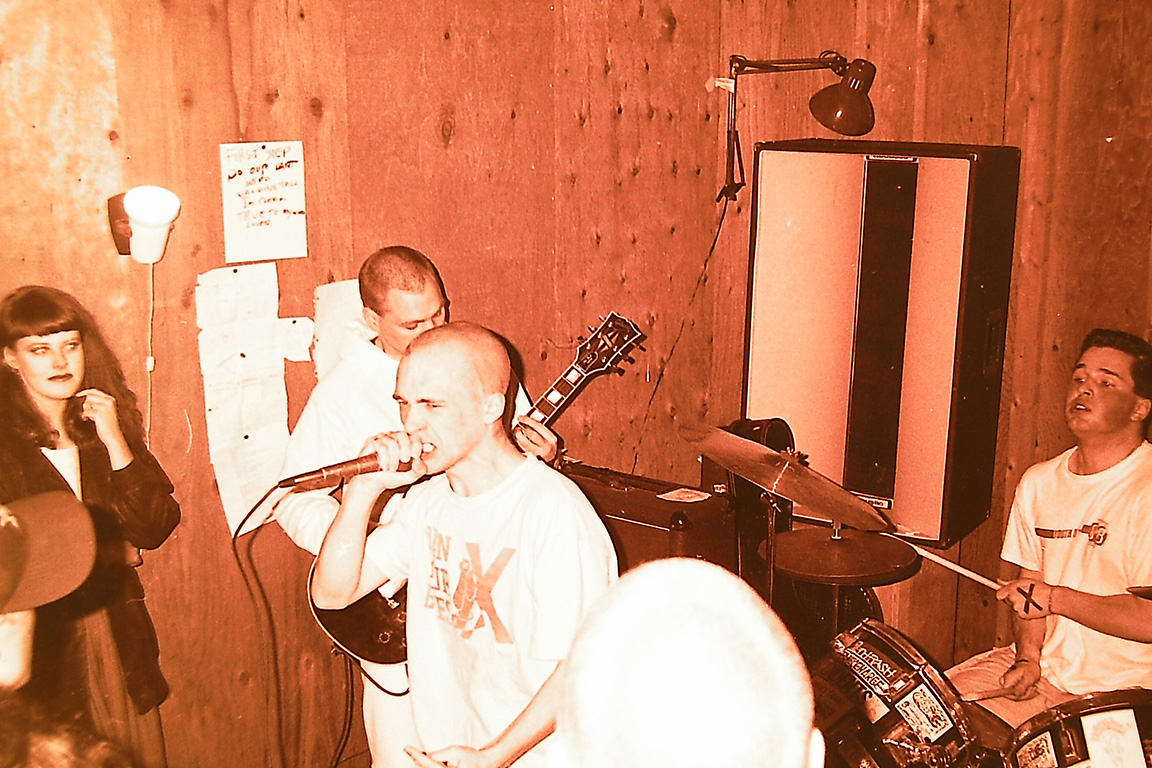 Bret and Dave had an art class together in High School. This is one of Bret's masterpieces:
---
I'VE KNOWN YOU TOO LONG
David Larson is a screenwriter from the Seattle area who ran an independent record label called EXCURSION for many years. Over the course of the last three decades, Dave has formed friendships with a large number of people who have made an artistic impact, mostly in the world of Punk Rock and Hardcore music. Many of these people have gone on to greater and more varied adventures in the worlds of art, film, music, politics, and activism. In this podcast, Dave uses the timeline of their first meeting to explore back and forth through their histories to try and gain a better understanding of how they came to be the people they are today.
They say history is written by the conquerors, and while none of these campaigns are complete yet, it is time to get some of these tales nailed down before they are lost to time and age.
---
Check out Dave's episode of the WORD ON THE STREET podcast HERE.
Check out Dave and Ron Guardipee's episode of the EDGELAND podcast HERE.
---
DIG THAT INTRO MUSIC?
That's Polymorph, a project by my friend Bryar Herrick. He has a ton of stuff you can check out here:
https://polymorph.bandcamp.com/
While you're at it, give his other bands a listen: TICKLE TRUNK and THE DARKWAVE DEMO.
---
Also:
---
Check out books by Boris D. Schleinkofer at AMAZON and SMASHWORDS.
To get his audio book, ESCHATOPOLIS: CITY AT THE END OF THE WORLD, click this link:
https://www.audible.com/pd/B07FKR5D6W/?source_code=AUDFPWS0223189MWT-BK-ACX0-121843&ref=acx_bty_BK_ACX0_121843_rh_us
---
And finally:
---
Dave's book SHADOW KILLER, a story set in the world of Hugh Howey's book WOOL, can be found at Amazon for Kindle here:
As an Amazon Associate I earn from qualifying purchases.